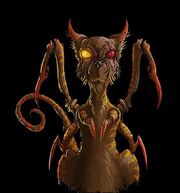 Alice is dead is a tale that is based on the story written by Lewis Caroll in 1865. Just like American Mcgee's version, this version which is created by Impending Riot and Hyptosis has a much darker setting. For the world where it takes place contains much more evil and is way more twisted than the already twisted original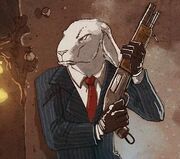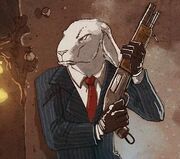 This series appears as a point and click game. The protagonist of the series is the Rabbit instead of Alice.
The Rabbit
At the start of the series the rabbit finds himself trapped in a hole in the ground togheter with a corpse, which appears to be alice's. He also's suffers from amnesia for he does not remember who he is or how he got stuck in the hole. After a day of exploring the hole he's trapped in, he finds himself an exit. During his explorations he also finds a mirror ,which helps him remind him who he is. Shortly after escaping the hole he's arrested for the murder of Alice.
In the second part of the series the Rabit finds himself trapped in a prison togheter with the Mad hatter. After a while the Mad Hatter escapes, killing all the prison guards in the procces and leaving the Rabits celldoor open. Freed from his cell the Rabit who's still suffering from amnesia tries to find the evidence that led to his arrest. After hacking into the prison mainframe he finds a photograph convincing him that he was indeed the one that assasinated Alice.
In the third part of the series the Rabit goes back to his hideout, which is close to the club owned by the queen of hearts. After eavesdropping on one of the queens henchmen, he learns that it was the queen that set him up to take the fall for Alice's her death. He also learns that he formerly was a hitman in the service of the queen of hearts togheter with Alice and the Mad Hatter. With this new gathered info the rabbit decides to go after the queen to get revenge for his and Alice sake. He infiltrates the queens club with the help of a former friend and tries to shoot the queen. But as he takes the evelator to the top floor of the club where the queen recides, it appears the queen knew he was coming and shoots him instead.
Hyptosis and Impending Riot are still working on part 4.
| | | |
| --- | --- | --- |
| | This article is a stub. You can help Alice in Wonderland Wiki by painting it. | |
The Games:
| | | |
| --- | --- | --- |
| | This article is a stub. You can help Alice in Wonderland Wiki by painting it. | |