The Futterwack or Futterwacken is a dance in the Alice in Wonderland movie. The Mad Hatter performed this dance on the Frabjous day after Alice slew the Jabberwocky, banishing the The Red Queen along with Iiosovic Stayne to the Outlands.
It is performed by David Bernal.
Risks
Johnny Depp tried to do the Futterwack, and according to "The Insider":
"Alice In Wonderland star Johnny Depp injured himself on the set of the new movie by doing the Futterwack. The 46-year-old actor plays the role of the Mad Hatter in Tim Burton's adaptation of the classic tale. Burton, 51, revealed that Depp injured himself by doing the Futterwack, a dance craze inspired by author Lewis Carroll's book.
He told EXTRA: "The doctor said I can't Futterwack for three months. And I only Futterwack in the privacy of my own home. You know, like a singer or dancer. I do it privately."
Depp added: "I'm itching to Futterwack. Just don't have it in me today."
Gallery
Videos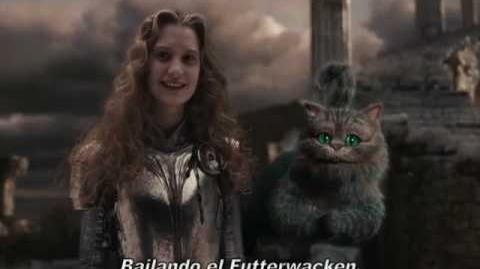 Community content is available under
CC-BY-SA
unless otherwise noted.