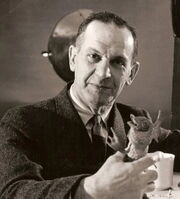 Louis 'Lou' Bunin (28 March 1904 – 17 February 1994) was an American puppeteer, artist, and pioneer of stop-motion animation in the latter half of the twentieth century. He was the producer of a full-length film adaptation of the novel Alice's Adventures in Wonderland, which was released in 1949. Carol Marsh played the lead role of Alice, the sole live-action character in a Wonderland populated by stop-motion puppets Bunin created.
Community content is available under
CC-BY-SA
unless otherwise noted.