==
"The Hatter used to carry about hats to sell: and even the one that he's got on his head is meant to be sold. You see it's got its price marked on it-a "10" and a "6"-that means "ten shillings and six pence." Wasn't that a funny way of selling hats? And hasn't he got a beautiful neck-tie on? Such a lovely yellow tie, with large pink spots.

When you follow him enough you also soon notice that all his clothes, skin, even hair changes according to that what he is feeling. Every color in his costumes, skin and hair are mood colors - he's like a mood ring: you can instantly see what he is feeling.

"
For the film there were made several different clothes for Hatter (Johnny Depp) to wear. In Underland (Wonderland) Hatter had only one costume, kilt and during Horunvendush day, and supposedly before that day also, he wore a brown beaver felt top hat, with pink silk scarf. But his costumes colors changes as also his skin colors according to mood colors - the more he's feeling some specific emotion, the more he's clothes and skin are affected by that. The styles also changed but only a little.
Alice in Wonderland costumes designer was Colleen Atwood - though Johnny Depp  and Tim Burton did heavily affect to the Hatter's costumes design - for instance, Hatter's mood colors was completely Johnny Depp's idea.

"As a costume designer, there's nothing quite like working with Johnny. First of all, he's a very generous artist and he brings a lot to everything. He has a great sense of play. He knows how to wear clothes in a very special way." -Colleen Atwood
Here's more about making of the Hatter.
==
Depp wore during the movie:
4 jackets ; blue (with a little touch of green), grey, brown and purple.
5 (lace) shirts with "puff" sleeves ;2 pinks, violet, lavender and blue (with a little touch of green)
3 vests ; red-brown, red-pink and patterned (black and white)
Hat ; in the movie there was seen 2 different hats Hatter wore
fingerless cotton gloves
"(summer) wool" pant with lace - the lace is sewed in the sides of pant
kilt ; with Hightopp clan tartan
leather shoes with orange inside lining and red shoelace
silk bow-tie (made of two layers of fine thick shiny silk)
cotton socks ; during the film Hatter had 9 different colors in his socks.

Then there were several accessories used:
pin cushion ring with pin ; 2 different pins were seen during the film
thread bandolier (with 25 bobbins)
12 ribbons
4 (pocket) scarfs
scissor pocket ; with 6 scissors
bird patch (was seen with brown jacket)
arrow pin (was seen with blue-green jacket)
5 Hat pins
2 hats scarfs (varied through movie)
6 thimbles, later 2.

With kilt there were kilt accessories also: k
sporran
2 kilt belts
2 ribbons (which were attached to his vest with metal ring)
flashes
He had purple and red-brown cotton clothes under the flashes. And he had black cotton pants uder the kilt.
Additional info
The worn look given Hatters jackets were made of thin silk layer that was burned over another layer, so the ageing effects was done, and also to give them the effect of Hatters sadness. But the bluish and purple jacket, which were seen during flashbacks, were made without burning the fabrics - they were made of slightly matt duchess silk satin. No synthetic fibers were used. There are two breast pockets in every jacket.
There are 10 buttons in every jacket: two in wrists, two in back and four in front. Before hatters mental collapsing his buttons were same stylish. They were big metallic ones with fine details, which were different in every button. In purple jacket some of those original buttons could be seen.
His shirts collars are lifted. There are four stichings in the collar. The edges of the collar doesn't touch.
In every shirt the buttons are different. In lavender the buttons are black glass (half-balls). In one of the two pink shirts the buttons are metallic ones with details, and in another they are white half-ball glass buttons. In purple they are purple half-ball glass buttons.  And in teal they are teal half-bal glass buttons. The lace is sewn into the shirt. The slave can be opened, so the lace is "cutted in half". There is two buttons in the slave.      
The jackets inside lining was made of shiny silk. The inside lining of grey and brown jacket's is different colored as the rest of jacket: brown jacket's inside lining is purple and grey one's is brown-beige. Also the (vissible) stitching is different colored: in brown it's purple and in grey jacket it is black. In blue-green and purple all the colors are same. Colleen Atwood colored most of the materials by herself.  
Vests were made of velvet, and the back of them was made of shiny silk. There is "tightening bow" in the back of every vest. Costumers designer Atwood colored most vest stripes by herself.
The vest with squares was made of several pieces of fabric that were cut and sewn together. The edges are purple and the stitching is dark violet in that vest.
To the red-brown and red-pink vests buttons were added extra detail by coloring the buttons with different colors, so that every button had different color in them. Buttons theme was about hats. In both of these vests the edges are golden colored, as some of the pockets stitching.
In every vest there are two pockets, and those pockets upper part (that one where the hole is) is stitched with the same colors as the edges (golden or purple).
The pant does have a dark purple silk patch in the leg curving part. Also there is lace and the sides of lace is decorated with somekind of seam. The stripes are not pinstripes - they're different. The pant of course doesn't have zipper:  the front is closed with buttons.
The decorative stitching has many colors, and there's also a little stitching made in the lowest part of pant.
Hatter had also nine cotton socks: four without stripes ; blue-green, red, yellow, and orange. And Hatter had five socks with stripes ; orange with purple stripes, blue-green with dark blue-green,  red with black and white stripes, multicolored with pastel colors and orange with black and white stripes.
Original outfit
Battle outfit
Details of Hatter's costumes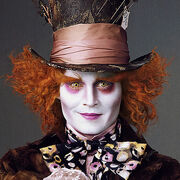 Mad Hatter's look