We're Getting Mutants in the MCU - The Loop
Play Sound
"Remember Alice, look before you leap."
Margaret Manchester is Alice's sister. She, unlike her sister, didn't mind the customs and ways that women acted in that time period.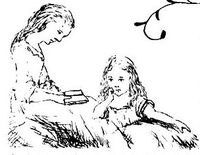 Margaret Or Mathilda
There have been many names given to Alice's sister. A very popular name is Margaret because of the 2010 movie of Alice in Wonderland.
Another name given is Mathilda as seen in Alice in Wonderland the play.
However, neither of these are correct. Carroll based Alice's sister on Lorina Liddell, older sister to Alice Liddell.
Alice And Margaret's Relationship
Alice and Margaret have always had different interests. If Margaret wanted to sit in the grass and read, Alice wanted to go on an adventure. This reflected how their parents treated them. Alice's father said all the best people are mad, while her mother was very angry at her for not wearing a corset nor stockings. It seems as if Margaret mirrors their mother while Alice mirrors their father. Alice loved adventure and Maragaret loved to read and think about history and literature.
Gallery
Alice in Wonderland (1951)
Alice in Wonderland (2010)