"Alice has returned to Underland."
In Tim Burton's Alice in Wonderland, "Underland" is the same world Alice once knew as "Wonderland", but it is revealed that she misheard the name as "Wonderland" when she was a child, but "Underland" is the proper name. Underland is in decline after years of being under the rule of the evil Red Queen. For inspiration, Burton was drawn to a World war II-era photograph of a British family having tea outside their estate under the bleak skyline of war-torn London. "The thing about Underland," Burton explained in a press release, "[is that] like any fairy-tale land, there's good and the bad."
Trivia
Underland is also the name for all the land under the fictional world of Narnia in the book The Silver Chair by the English author C. S. Lewis.
Underland is also the name of the land under New York City in "The Underland Chronicles", a five-part series of fantasy novels written by the American author Suzanne Collins.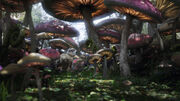 Community content is available under
CC-BY-SA
unless otherwise noted.