Jurassic World: Dominion Dominates Fandom Wikis - The Loop
Play Sound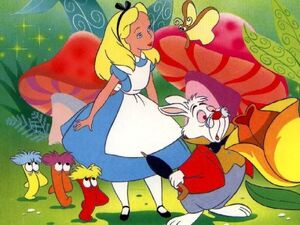 Wonderland is the main location in both novels Alice's Adventures in Wonderland and Through the Looking-Glass, and What Alice Found There. It appears unnamed in the first book. It's the main location also of Alice in Wonderland (1951) and Alice in Wonderland (2010).
In the Novel
Wonderland is the curious place Alice discovers after falling down a rabbit hole in Lewis Carroll's novel Alice's Adventures in Wonderland. The inhabitants of Wonderland are all mad, according to the Cheshire Cat, and Alice meets the Mad Hatter, the White Rabbit, the Dodo, the Queen of Hearts, the March Hare, and many others over the course of her adventures there. In Carroll's novel, Wonderland includes a beautiful garden, an ocean, and a forest. Although the unusual characters and unexpected events in Wonderland sometimes perplex Alice, she often takes pleasure in her surroundings.
Travel Guide
Geography
Does not seem to stick to any strict Geography.
Political System
Constitutional Monarchy.
Distinguishing Features
Hare House, White Rabbit's House, Duchess's House, etc.
Final Thoughts
A funny place really.
In the Movies
In Tim Burton's 2010 film, Wonderland is called Underland; Alice returns to it as a 19-year-old young lady and realizes that she had originally misheard the name "Underland" as "Wonderland" when she was there many years ago. Now under the rule of the maniacal Red Queen, Underland is a bleak, desolate place. Alice must unite with her old acquaintances to save it.
Disney's Alice in Wonderland portrays Wonderland just as Carroll originally described it (?), as a kooky, curious, colorful place full of eccentric characters.
Other Appearances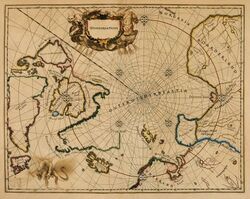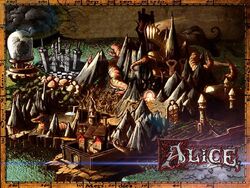 It appears in the novels the Looking Glass Wars. It is surrounded by sea, as shown in the glorious, completed map to your right. The map shows the Wondernations.
In American McGee's Alice, Alice returns to Wonderland which, being a creation of Alice's mind, has been corrupted by her insanity. The new Wonderland is made up of nine provinces:

Village of the Doomed

,

Wonderland Woods

, the

Pale Realm

, Behind the Looking Glass,

Queensland

, etc.